Motorcycles Towing Service
Rev Up Your Ride with Jake's Towing and Recovery: Leading Motorcycle Towing Service in Roseville
Are you a passionate motorcycle enthusiast in Roseville? Don't let an unexpected breakdown or roadside mishap put a damper on your adventurous spirit. At Jake's Towing and Recovery, we understand the unique needs of motorcycle owners like you, and we're here to provide efficient and reliable motorcycle towing services in Roseville. Our experienced team and state-of-the-art equipment ensure that your prized possession is handled with the utmost care and professionalism, giving you peace of mind on the open road.
Efficient and Reliable Motorcycle Towing Services
When it comes to motorcycle towing, we take pride in delivering prompt and efficient solutions to meet all your towing needs. Our skilled drivers are well-trained in motorcycle handling techniques and are equipped with the necessary tools and equipment to tackle any towing situation. Whether you're facing a breakdown, a flat tire, or simply need transportation for your motorcycle over a long distance, we've got you covered.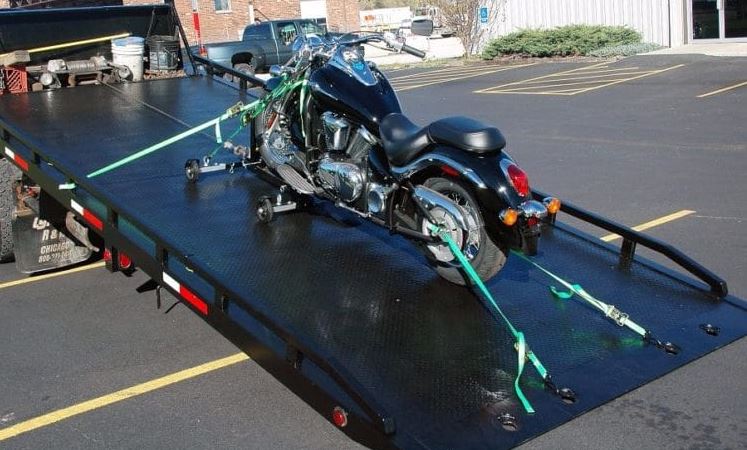 Emergency Roadside Assistance for Motorcycles
When you find yourself stranded on the side of the road due to a motorcycle breakdown, you can count on our quick response and professional assistance. Our team understands the urgency of such situations and strives to reach you promptly, equipped with the necessary tools and expertise to get you back on the road as soon as possible.
At Jake's Towing and Recovery, we follow a well-defined towing process to ensure the safety and security of your motorcycle. When you contact us for motorcycle towing in Roseville, our friendly customer service representatives will gather all the necessary information about your location and the nature of your situation. This allows us to dispatch the most appropriate team and equipment for your specific needs.
Upon arrival, our experienced drivers will carefully assess your motorcycle's condition and implement the best towing method. We employ specialized motorcycle towing equipment, such as wheel lifts or flatbeds, depending on the situation. Our drivers are skilled in securing motorcycles during transportation to prevent any damage or shifting.
Why Choose Jake's Towing and Recovery?
Contact Jake's Towing and Recovery for Motorcycle Towing in Roseville
When you're in need of motorcycle towing services in Roseville, turn to the experts at Jake's Towing and Recovery. We are dedicated to delivering efficient, reliable, and professional towing solutions for all types of motorcycles. Contact us today to experience our top-notch service and get back on the road with confidence.
To request motorcycle towing or to learn more about our services, simply give us a call at [phone number] or fill out the form on our website. Our friendly team is ready to assist you at any time. Trust Jake's Towing and Recovery for all your motorcycle towing needs in Roseville!